Resurrection of the Prophet
In a bath tub of dust
A rust colored bull bison
Is picked at by a buzzard
Ribs heave and the old sage stirs
Ain't no way to stop it
It's the resurrection of the Prophet.
High pitched yipping is
Skipping overhead
From a dry creek bed
The Coyotes are in ecstasy.
A trance is put to a dance and cats consumed by chance
Like sacramental wafers
"This is my body
Given…."
"This is my blood." Lapped up every last drop
"Celebrate what we ate
That we even ate at all."
This is a full and sufficient sacrifice for an hour.
No one can stop it.
Yes, it's the resurrection of the prophet.
We all feed on some beast
Both the powerful and the least.
On one more lost morning
laying down
Awakened by the sound
Of a hellhound
Hold on to your every card
Here comes the American Blowhard
Ain't no way to stop it
It's the resurrection of the prophet.
Believe your own blarney
Bark it out like a carney
Until visions of paradise
Rise and shine
In the confines of your mind
Where they'll be licked like ice cream
Till they strangle in bundles
Of cash in a closet dank
In the corner of a Swiss bank.
It's hard to see the river
When you are drowning in a teacup and sounding out sea shanties in a hurricane raindrop.Well, go ahead blow you winds take me down if you can, I bite back against the black mind even if you leave me deaf and blind I will find my way home. Every evening we die and every morning we are resurrected. The times in between are dreams .If you want to know what's in the secret files ,that is where it is detected.
Joshua Kight. 3/23/17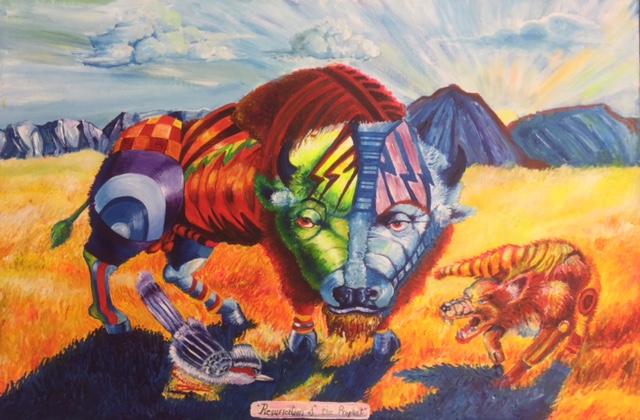 { 0 comments }